Make A Poster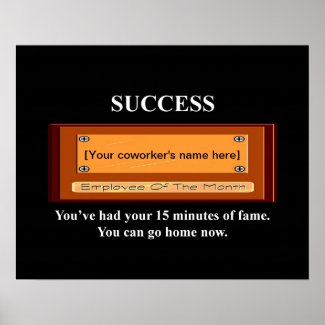 Make a funny demotivational "commemorative plaque" poster for your friend or co-worker in honor of him/her being made Employee of the Month. To get started, follow the simple steps below:
Enter the name of your friend or co-worker below. Then, press "Go" to preview your creation.


Double check the name spelling and repeat Step 1 as necessary. (If it should turn out that your name is too long to fit inside the plaque, don't worry. Later, we will walk you through the process of changing the font type and size so that it looks just the way you want.)


Click "Make This Poster" whenever you are ready to add the finishing touches to your poster.
Clicking this button will take you to our shop at zazzle.com where you can further customize your poster before purchasing it.
---